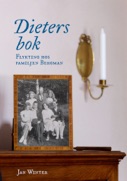 Do we really need another book about Ingmar Bergman?
Are we not fed up with Bergman books, pods, weeks, seminars?

Swedish cultural circles seem to have an insatiable hunger for everything Bergman this anniversary year. For the general public, probably less so.

So, say hello to AltBergman.

Dieters bok (Dieter's book) by Jan Winter is only partly about the artist, more about his family.

It's a documentary novel about the semi-Jewish German refugee Dieter Müller-Winter's life with the Bergman's 1939-1945. The parallel story is about the priest's son who became Sweden's most famous film- and theater director. The war years were precisely when Bergman actually became Bergman.

These pages describe why the book needed to be written. And it adds to what the theater and literary critic Leif Zern once wrote:

("Ingmar Bergman does not own the truth, not even the one about himself, and every time that we talk about him we should talk about Dieter Winter.")