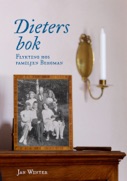 Dieter's story is far too exciting to remain a private family project.
Few artists have, like Bergman, succeeded in creating such a filter bubble around his persona.

Even today, ten years after his death, Swedish and foreign Bergman scholars use the master's own statements as historical truths to explain his artistic development - although Bergman himself was clear about how to look at his supposed autobiographical authorship:

        It's hard for an old, inveterate fantasy martyr and blooming liar who has never hesitated to give truth the form he felt the occasion demanded.

(From the preparatory work for Laterna magica)

When a selection of his mother Karin Bergman's diaries were published in the 1990s, anyone could read an ironic twist between the lines: The mother unmasks her son - the worst figments in Laterna Magica crumbled.

Dieters bok provides further explanations for the myths surrounding the family. Not least, the author of the book tries to restore the honour of the anti-Nazi priest Erik Bergman, Bergmans father, who was so badly defamed by his son and far too many scholars and know-alls in his outer entourage.

But still, is this really a necessary book?

Read it and decide for yourself!