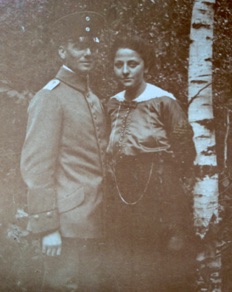 Jan Winter's story:
My grandmother Elisabeth Winter, born Goldstein, converted to the Protestant church when she married my future grandfather, Erwin Müller-Winter 1916.

Her parents were a bit angry, but mostly because she dropped out of  her upper secondary studies just before the "Abitur", in the world's most modern country, Imperial Germany. They did not mind the non-Jewish artillery captain from the then German Lorraine.

Elisabeth came from a prosperous doctor's family in the beautiful Berlin southern district of Lichterfelde. Thirty years after her wedding day, she was a widowed refugee in Stockholm with a Swedish stateless person's passport. During the war she managed a home for Jewish refugee boys on Hornsgatan street in Stockholm.

Without Erik Bergman's help, neither Dieter nor my grandmother or her older sister Charlotte would have managed to stay in Sweden.

But Bergman not only helped Jews. He opened his house for Norwegian priests on the run from occupied Norway. He preached against Stalin and Hitler in his Hedvig Eleonora church. On congregation evenings anti-Nazi literature was read.

In other words, Erik Bergman was a person far from the description that the son has provided him with in different contexts. It does not add up and may be worth considering this anniversary year, when so much of Bergman's early years is being discussed. Still, Erik Bergman is often portrayed as if he were the vile bishop Vergérus in "Fanny and Alexander". In Dieters bok Bergman's way of dealing with his father and with what later became known as "Bergman's Nazi myth" is discussed at length.

The book also contains at least part of the story of the Jewish refugee work in Sweden during the war. My grandmother Elisabeth and her sisters Sophie and Charlotte all worked in orphanages in Uppsala, Stockholm and Gothenburg taking care of the Jewish refugee children in the so called children's quota.